Name:
Fanny Price
Nicknames / Aliases:
Christened Frances Price after her mother but always called Fanny, Miss Price
Novel:
Mansfield Park
by Jane Austen
Role:
Heroine
Age:
10 when story begins, 18 when story ends
Occupation:
Naval Lieutenant's daughter, baronet's niece, companion to her aunt
Talents / Hobbies:
Reading, sewing, star gazing, riding horses, writing to her brother, reading aloud, patient companion to her aunt.
Place of Residence:
Mansfield Park, Northampton, England
Virtues:
Gentle, sweet, pure, meek, tenderhearted, kind, good listener, dedicated to her faith, firm in her convictions, a good judge of character, quietly romantic.
Vices:
Shy, undervalues her own worth, fears change.
Family:
Mr. Price
- Fanny's father, Lieutenant in the Navy. Married Miss Frances Ward, father of William, Fanny, Mary, John, Richard, Susan, Sam, Tom, Charles and Betsey.
Mrs. Frances Price
- Fanny's mother, born Miss Frances Ward, younger sister of Lady Bertram and Mrs. Norris. Married Lieutenant Price, mother of ten children: William, Fanny, Mary, John, Richard, Susan, Sam, Tom, Charles and Betsey.
William Price
- Fanny's brother who is two years older than her, a midshipman in the Navy. Lively and devoted to Fanny, he was her champion and close companion when they were young. They have kept up their friendship through letters since her removal to Mansfield Park. He visit Fanny at Mansfield Park several times when he's on leave from the Navy.
Susan Price
- Fanny's sister who is four years younger. When Fanny visits her family in Portsmouth after her long absence she finds Susan a goodhearted girl of fourteen who, although sometimes quick tempered, makes a good friend and companion. Susan later comes to Mansfield Park with Fanny and becomes Lady Bertram's companion when Fanny marries.
Other Siblings
-
Mary
, a deceased sister who died after Fanny moved to Mansfield Park;
John
, a clerk in a public office in London;
Richard
, a midshipman on board an Indiaman;
Sam
age 11, soon to join William on the
H.M.S. Thrush
;
Tom
, was just a baby who Fanny helped to nurse before she moved to Mansfield Park;
Charles
, born after Fanny left home; and
Betsey
, troublesome at age 5, born after Fanny left home.
Lady Bertram
- Fanny's aunt, born Miss Maria Ward. Sister to Mrs. Frances Price and Mrs. Norris. Married Sir Thomas Bertram of Mansfield Park, mother of Tom, Edmund, Maria and Julia. Fanny acts as her companion.
Sir Thomas Bertram
- Fanny's uncle, baronet of Mansfield Park. Married Miss Maria Ward (now Lady Bertram), father of Tom, Edmund, Maria and Julia.
Tom Bertram
- Fanny's cousin who is eight years older than her. Son and heir of Sir Thomas & Lady Bertram. Fond of drinking, gambling and horse racing. Likes to tease Fanny.
Edmund Bertram
- Fanny's cousin who is six years older than her. Son of Sir Thomas & Lady Bertram, marries Fanny Price (see Spouse below).
Maria Bertram
- Fanny's cousin who is four years older than her. Daughter of Sir Thomas & Lady Bertram. Loves Mr. Henry Crawford but married Mr. James Rushworth of Southerton.
Julia Bertram
- Fanny's cousins who is two years older than her. Daughter of Sir Thomas & Lady Bertram. Loves Mr. Henry Crawford but elopes with her brother Tom's friend Mr. Yates.
Mrs. Norris
- Fanny's aunt, sister to Lady Bertram and Mrs. Frances Price. Married Reverend Mr. Norris clergyman of Mansfield Park who dies when Fanny is age 15. (See Enemies for more info.)
Reverends Mr. Norris
- Fanny's uncle married to her aunt Mrs. Norris. Mr. Norris was given the position of rector at Mansfield Parrish until his death when Fanny was about 15-years-old.
Spouse:
(future)
Edmund Bertram
- When Fanny first comes to Mansfield Park at age 10 she is shy and misunderstood by most of the family except Edmund who becomes her friend and champion. In return for the care she shows her Fanny loves Edmund more than anyone and when their older that sisterly love matures into true love. Although Edmund loves Fanny as a sister he is blinded to her true feelings when Mary Crawford comes to Mansfield. Fanny sees that Edmund is deceived by the whiles of Mary but earnestly prays for his happiness and tries to be the best friend she can be. Her patience and forgiveness later pays off when Edmund realizes Mary's true nature and that Fanny is the faithful love he's always wanted.
Friends:
Edmund Bertram
- Fanny's cousin who is her best and truest friend from the time she first comes to Mansfield Park. (See Spouse for more info.)
Mrs. Grant
- Wife of Dr. Grant who becomes the Mansfield clergyman after Rev. Norris dies. She is very kind to Fanny but her siblings Mary and Henry Crawford cause heartache for Fanny. She also acts as companion to Lady Bertram on occasion so Fanny can enjoy outings with the other young people.
Enemies:
Mrs. Norris
- Fanny's aunt who spends most of her time at Mansfield Park and enjoys arranging things to suit her. She constantly reminds Fanny of her position as a poor dependent of Sir Thomas and often makes life extra difficult for her.
Mary Crawford
- Sister of Mrs. Grant who stays at her at the parsonage. Mary had her designs on Tom Bertram but finds Edmund Bertram more to her taste. She acts as a friend to Fanny in order to encourage Edmund's love and help her brother Henry woo Fanny.
Henry Crawford
- Brother of Mrs. Grant and Mary Crawford who visits at the parsonage. Mr. Crawford is a flirt and captures the hearts of both Julia Bertram and Maria Bertram (who is then engaged to Mr. Rushworth). After Maria and Julia leave Mansfield Park he turns his attentions to Fanny and causes much heartache for her by proposing.
Portrayed by:
Sylvestra Le Touzel (1983), Frances O'Connor (1999), Billie Piper (2007)
Quotes:
"To sit in the shade on a fine day, and look upon verdure, is the most perfect refreshment." - (novel)
"How wonderful, how very wonderful the operations of time, and the changes of the human mind!" And following the latter train of thought, she soon afterwards added: "If any one faculty of our nature may be called more wonderful than the rest, I do think it is memory. There seems something more speakingly incomprehensible in the powers, the failures, the inequalities of memory, than in any other of our intelligences. The memory is sometimes so retentive, so serviceable, so obedient; at others, so bewildered and so weak; and at others again, so tyrannic, so beyond control! We are, to be sure, a miracle every way; but our powers of recollecting and of forgetting do seem peculiarly past finding out." - (novel)
"How differently we feel!" cried Fanny. "To me, the sound of Mr. Bertram is so cold and nothing–meaning, so entirely without warmth or character! It just stands for a gentleman, and that's all. But there is nobleness in the name of Edmund. It is a name of heroism and renown; of kings, princes, and knights; and seems to breathe the spirit of chivalry and warm affections." - (novel)
"No, no, no!" she cried, hiding her face. "This is all nonsense. Do not distress me. I can hear no more of this. Your kindness to William makes me more obliged to you than words can express; but I do not want, I cannot bear, I must not listen to such—No, no, don't think of me. But you are not thinking of me. I know it is all nothing." - (novel)
"We have all a better guide in ourselves, if we would attend to it, than any other person can be." - (novel)
"Let him have all the perfections in the world, I think it ought not to be set down as certain that a man must be acceptable to every woman he may happen to like himself." - (novel)
Biography:
Fanny Price's story begins with her mother who marries a poor Lieutenant while her older sister marries rich baronet Sir Thomas Bertram. Fanny is the oldest girl in the Price's family of ten children and they have little to live on. When her mother asks for help from their richer relations young Fanny is sent to live with her Aunt Bertram at Mansfield Park. Although Fanny knows she should be grateful for her aunt and uncle's kindness she is miserable. No one means to be unkind to her but her older cousins Maria and Julia are amazed at her ignorance in the schoolroom, she is constantly chided by her Aunt Norris and treated coolly by her uncle Sir Thomas Bertram. The only one who is truly kind to her is her cousin Edmund who helps her write letters home, encourages her to read and learn and becomes her best friend.
Eight years pass. As Fanny blossoms into a sweet and gentle young lady of eighteen her older cousins become refined and enter into society and the marriage market. Under the direction of their Aunt Norris her cousin Maria Bertram becomes engaged to rich but foolish Mr. Rushworth, but their marriage must wait for Sir Thomas who has gone to the East Indies to oversee his business there. While he is away Henry and Mary Crawford arrive fresh from fashionable London to stay with their sister and brother-in-law Mrs. Grant and Reverend Dr. Grant at the parsonage. Fanny is one of the few who sees that flirtatious and charming Henry Crawford's artful capturing of the hearts of Julia and the engaged Maria. She also looks on in horror as her beloved Edmund falls under the spell of beautiful Mary Crawford who befriends Fanny just to make herself look good. The young people have an outing at Southerton, Mr. Rushworth's estate, and many gatherings at Mansfield Park where Fanny observes their flirtations unable to speak up about her concern.
When her older cousin Tom arrives with his pompish friend Mr. Yates the young people decide to entertain themselves by rehearsing and putting on the rather risque play
Lover's Vows
. As a young lady of purity Fanny refuses to act in the play because it would be improper and is saddened when sturdy Edmund is prevailed on by Mary Crawford to act the part of her love interest in the play. The return of Sir Thomas forces the young people to give up the play and the household returns to a semi-normal state but Julia and Maria's hearts have been wounded by Mr. Crawford.
When Maria and Mr. Rushworth are married they take Julia with them on their honeymoon trip. Fanny becomes more important at Mansfield Park and Henry Crawford decides that she will be his next conquest. Although Fanny resist Mr. Crawford's pointed attentions he is encouraged by her uncle and aunts who misguidedly think he would be a good match for her. But Fanny sees Mr. Crawford's true nature and her gentle heart already belongs to Edmund who in return is deceived in Mary Crawford. Although her heart is breaking Fanny prays for Edmund's happiness, tries to think of him only as a friend and lends him a listening ear when Mary vexes him.
Fanny's beloved older brother William visits Mansfield Park and their uncle arranges a "coming-out" ball for Fanny. When Fanny asks for advice on the style of her dress for the ball, Mary Crawford slyly gives Fanny a necklace from Henry and tries to encourage Fanny to accept his attentions. Fanny's first ball is a great success, even though she has to dance with Mr. Crawford, but she also has a sweet dance and conversation with her beloved Edmund. The next day William and Henry Crawford leave for London and Edmund leaves because he is shortly to be ordained as a minister.
When Henry Crawford returns he shortly makes his way to Mansfield Park where he informs Fanny of how his influence with his uncle helped her brother William get promoted to a Lieutenant in the Navy. Fanny is thankful for his help but not for his proposal of marriage which soon follows. Thinking his proposal is not serious Fanny brushes it off, but when he applies to her uncle she must speak up for herself. In an interview with Sir Thomas she explains that she's convinced they could never be happy together. Although Sir Thomas is kind to her he thinks Fanny is a bit ungrateful and unsure of her own mind and hopes that more time getting to know Mr. Crawford will change his niece's mind. When Edmund come home he and Fanny have long talk about the situation where he is mostly in favor of the match he tells her to follow her heart.
Hoping that Fanny will realize the value of accepting a rich gentleman like Mr. Crawford, Sir Thomas sends her to Portsmouth to visit her family. Fanny is as first excited to the parents and siblings who she hasn't seen in 8 years, but they are so exceedingly poor and all busy with their own petty concerns that they show little excitement to see her. But Fanny tries to make the best of her visit by helping her mother around the house and by being a good influence on her younger sisters and showing them more elegant ways. Mr. Crawford visits her and renews his proposals with a kinder air but is steadily refused.
Fanny waits at Portsmouth to be called for and news of Edmund's inevitable engagement to Mary Crawford. The first news of Mansfield Park she receives is read aloud from the newspaper gossip column by her father: Maria Bertram has left her husband and eloped with Mr. Crawford and no one knows where they are gone. Soon Lady Bertram writes to Fanny with the news that Tom has fallen deathly ill as a result of his riotous living and that Julia has also run away with Mr. Yates. Edmund comes to Portsmouth to convey Fanny and her younger sister Susan to Mansfield Park. Fanny helps nurse Tom and cares for her aunt Bertram proving that she is the truest "daughter" the Bertrams could ever have. Julia and Mr. Yates are married and Tom recovers but Maria, separated from her husband and deserted by Mr. Crawford, is not allowed to return to Mansfield Park. Aunt Norris, convinced that Maria is kept from returning home only because she might sully the reputation of pure young Fanny, leaves Mansfield Park to set up a home in another county where she and Maria will live and quarrel together. Fanny is relieved to hear that Edmund has at last had his eyes opened to Mary Crawford's true worldly nature and is not going to marry her.
It is clear that Fanny is necessary to the family's happiness and soon Edmund realizes that she is the woman he has been looking for and loves. Fanny's patience and faithfulness are rewarded by her marriage to Edmund. The couple spend some years living at the nearby Parrish of Thornton-Lacey but when the Grants leave Edmund also becomes rector of the Mansfield Parish which Fanny loves so well.
Other Pictures:
(Click thumbnails for bigger pictures. Click the headings for more pictures.)
BBC Mansfield Park (1983)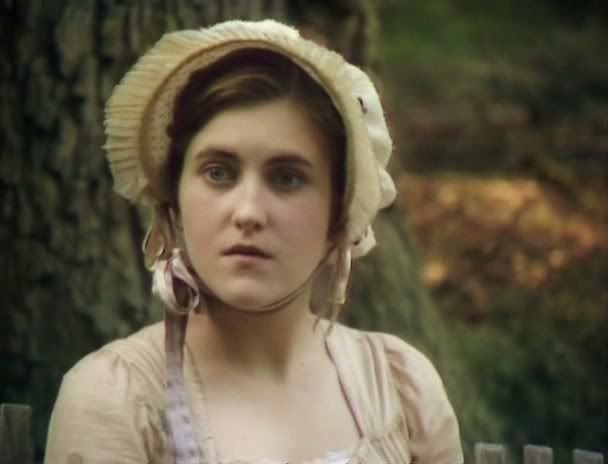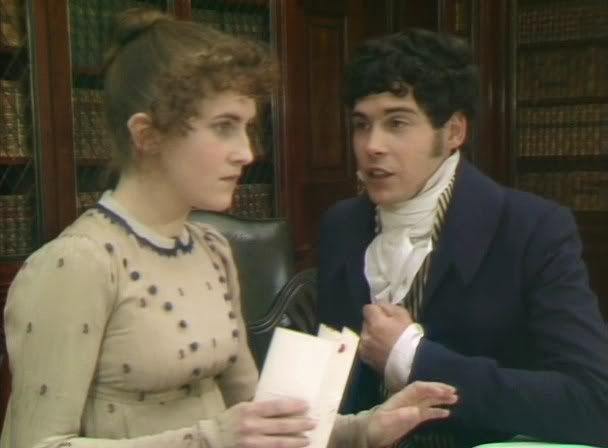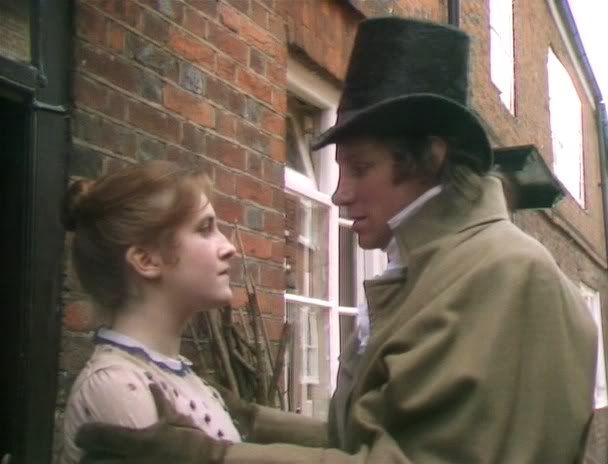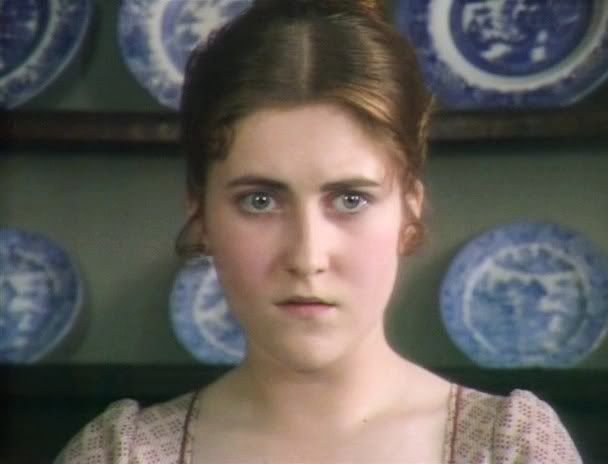 Mansfield Park (1999)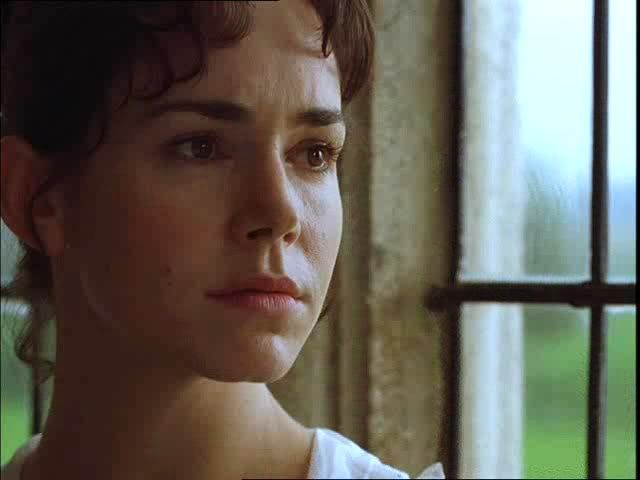 Mansfield Park (2007)