Name:
Jane Bennet
Nicknames/Aliases: Miss Bennet
Novel: Pride and Prejudice by Jane Austen
Role: Other Main Character
Age: 22
Appearance: Pretty
Occupation: Gentleman's Daughter
Talents/Hobbies: Peacemaker, Good listener, Good with children, Can manage a household
Place of Residence:
Longbourn in Meryton in Hertfordshire
Virtues:
Kind, Good Natured, Sweet, Tactful, Caring, Sensible
Vices:
Often thinks too well of people, sometimes hides true feelings
Family:
Mrs. Bennet -- Formerly Miss Gardiner, Mrs. Bennet is the mother of Jane, Elizabeth, Mary, Kitty and Lydia, and the sister of Edward Gardiner. She is determined to get her daughters married to a rich man.
Mr. Bennet -- Mr. Bennet is the father of Jane, Elizabeth, Mary, Kitty, and Lydia, and the cousin of William Collins. Mr. Bennet retires from his silly wife and three youngest daughters by retiring to his library. Elizabeth is very close with her father.
Elizabeth Bennet -- The second daughter of Mr. and Mrs. Bennet, Elizabeth is Jane's closest friend.
Mary Bennet -- Mary Bennet is the third daughter of Mr. and Mrs. Bennet. Not good looking, Mary devotes her time to playing the piano (though poorly) and excessively reading.
Catherine "Kitty" Bennet -- Kitty is the fourth daughter of Mr. and Mrs. Bennet. Closest with her sister, Lydia, Kitty spends a lot of time flirting with the local militia.
Lydia Bennet -- Lydia is the youngest daughter of Mr. and Mrs. Bennet. A determined flirt, Lydia and her sister Kitty spend much of their time looking for officers.
Mr. Edward Gardiner -- Mrs. Bennet's brother, Mr. Gardiner is in trade and has a decent income.
Mrs. M. Gardiner -- Mr. Gardiner's wife.
Mrs. Phillips -- Mrs. Bennet's sister, Mrs. Phillips lives near the Bennets in Meryton. The Bennet sisters love to visit her.
Mr. Phillips -- Mrs. Phillips husband, Mr. Phillips is an attorney. He never makes an appearance in Pride and Prejudice.
Spouse:
Mr. Bingley (future) -Mr. Bingley has a fortune of 5000 pounds a year. His father earned his fortune in trade, which allowed Mr. Bingley to become a gentleman. Mr. Bingley is very friendly and quickly earns the favor of the people of Meryton. His best friend is Mr. Darcy.


Friends:
Charlotte Lucas - A close neighbor of the Bennets, Charlotte is 27 years old and unmarried.
Enemies:
Caroline Bingley - Miss Bingley pretends to be Jane's friend, but in reality she convinced her brother, Mr. Bingley to leave Netherfield to separate them.
Louisa Hurst - Miss Bingley and Mr. Bingley's sister, she also pretended to be Jane's friend but convinced Mr. Bingley to leave Netherfield.
Portrayed By: Maureen O'Sullivan (1940), Sabina Franklyn (1981), Susannah Harker (1995), Rosamund Pike (2005), Morven Christie (Lost in Austen, 2008)

Quotes:
"He is just what a young man ought to be... sensible, good-humoured, lively; and I never saw such happy manners!—so much ease, with such perfect good breeding!" (Chapter 4)
"Laugh as much as you chuse, but you will not laugh me out of my opinion."
(Chapter 17)
Biography:
Kind-hearted Jane is the eldest and prettiest daughter of Mr. and Mrs. Bennet. The Bennet's estate of Longbourn is entailed on Mr. Bennet's cousin, William Collins, since the Bennets did not have any sons. Because of that, Mrs. Bennet is focused on marrying off each of her daughters to wealthy men.
Jane meets the wealthy Mr. Bingley at a ball at the assembly room in Meryton where they fall in love. They always talk to each other when they are at parties and always dance with each other. Charlotte Lucas, neighbor of the Bennets, tells Elizabeth that Jane should show more affection than she feels to secure Mr. Bingley.
Jane becomes friends with Mr. Bingley's sisters, Louisa Hurst and Caroline Bingley. When they invite Jane to dine with them at Netherfield, Mrs. Bennet forces Jane to go on horseback since it looked like it would rain and she would have to stay the night and see Mr. Bingley. When Jane arrives at Netherfield in the rain, she becomes ill. The next day, Jane's sister, Elizabeth, walks three miles from Longbourn to Netherfield intending to visit Jane for the day, but Mr. Bingley invites her to stay until Jane recovers.
Once Jane recovers and both her and Elizabeth return to Longbourn, Mr. Bennet announces that Mr. Collins is going to visit them. When Mr. Collins arrives, he is taken with Jane, but Mrs. Bennet informs him that it is likely that she will soon be engaged, to which Mr. Collins then sets his sights on Elizabeth. Soon after, Mr. Bingley holds a ball at Netherfield to which all the Bennets and Mr. Collins attend. Mr. Bingley's friend, Mr. Darcy, notices that Mr. Bingley is in love with Jane, but doesn't think that she is in love with him. Later that evening, the Bennets (with the exception of Jane and Elizabeth) show some very embarrassing behavior.
Jane receives word from Miss Bingley a couple of days later that Mr. Bingley, his sisters, and Mr. Darcy have left Netherfield for London without any intention of returning. Miss Bingley implies that Mr. Bingley and Miss Darcy, Mr. Darcy's sister, might soon become engaged. Jane hopes that Miss Bingley has deceived herself, but Elizabeth thinks that Miss Bingley is trying to get Mr. Bingley and Miss Darcy engaged.
After Mr. Bingley's departure, Jane feels a bit low. When her aunt and uncle, Mr. and Mrs. Gardiner, visit for a little while, but before they leave, they invite Jane to come along with them to London. Jane accepts their invitation and leaves with them for London.
When Jane arrived in London, she called on Miss Bingley in Grosvenor Street, but Miss Bingley seemed out of spirits. Miss Bingley ends the visit by saying that her and Mrs. Hurst are going out, but will call on Jane in a few days. Jane waited at home for two weeks before Miss Bingley paid her a visit, and due to Miss Bingley's manner towards Jane, Jane became convinced that she was mistaken about Miss Bingley.
Jane returns to Longbourn with Elizabeth after Elizabeth was visiting the new Mr. Collins and Charlotte, who were married not too long ago. Elizabeth can see that Jane is still affected by Mr. Bingley's departure, but Jane is determined to be content.
While Elizabeth is on a trip with Mr. and Mrs. Gardiner, the Bennets find out that Lydia, their youngest daughter, has eloped with Wickham. Jane wrote to Elizabeth so that they would all return to help with the search for Lydia. Wickham and Lydia are found in London and are made to marry.
Not long after Lydia's scandal, Mr. Bingley returns to Netherfield along with Mr. Darcy. Not long after his arrival, Mr. Bingley proposes to Jane and Jane accepts. Not long after their engagement do Mr. Darcy and Elizabeth become engaged.
After they are married, Jane and Mr. Bingley remained at Netherfield for a year, but because of Mrs. Bennet and of the relations Jane had in Meryton that were not "desirable even to his easy temper, or her affectionate heart", the Bingleys bought an estate in Derbyshire that was within thirty miles of Pemberly, the home of Mr. and Mrs. Darcy.
Other Pictures (Click thumbnails for bigger picture. Click the headings for more pictures.)
1940 Movie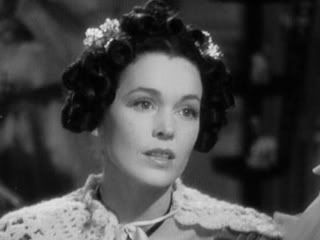 1981 Miniseries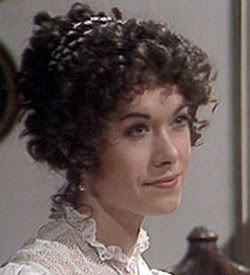 1995 Miniseries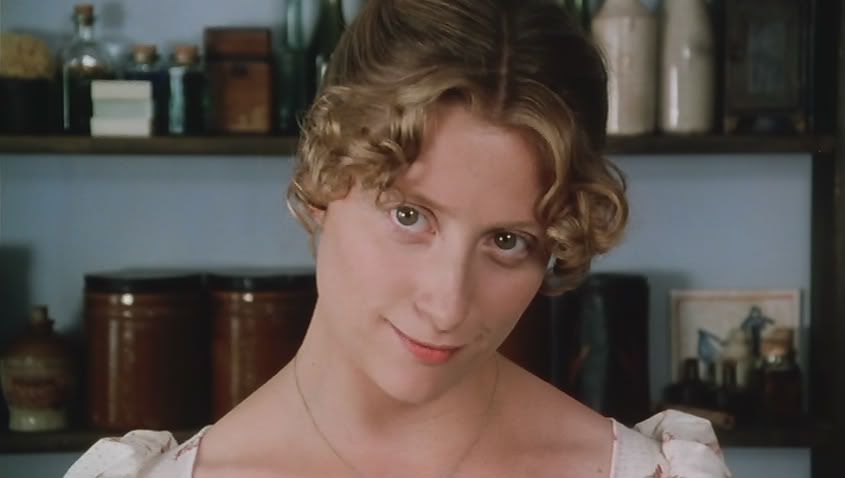 2005 Movie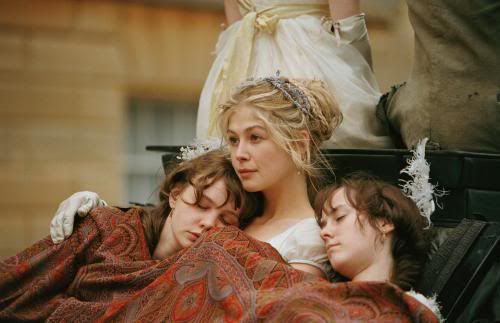 2008 Series (Lost in Austen)