Nicknames/Aliases: Miss Eyre, Janet, Jane Elliot
Novel: Jane Eyre by Charlotte Brontë
Role: Heroine
Age: 10 at beginning, 18-19 for the rest
Occupation: Governess, teacher
Talents/Hobbies: Reading, drawing and painting, plays the piano "a little", speaks French fluently
Place of Residence: England. The author is never specific about particular locations (the book often says "-----shire"), but the various places she stays are Gateshead Hall, Lowood Institution, Thornfield Hall, and Moor House. The movies are often set in Yorkshire, probably because that is where the author (Charlotte Brontë) lived.
Virtues: Loyal, firm in purpose, clever, capable, kind-hearted, respectable, constant in character, firm in convictions
Vices: Lets emotions accumulate inside her before letting them out, somewhat discontented, too serious sometimes, too forgiving, too trusting (and not suspicious enough)
Jane (Reed) Eyre – her mother, who died before she could remember her. Married Mr. Eyre.
Mr. Reed – Jane's uncle who took her in when she was orphaned. Owner of Gateshead Hall. Died when Jane was quite young. Out of affection and concern for Jane he made his wife promise to treat Jane as one of her own children. Mrs. Eyre's brother.
Mrs. Reed – Jane's aunt by marriage (Mr. Reed's wife). Mr. Reed made her promise to raise Jane as one of her own children. She did not keep this promise and showed her only coldness and hate to the very last breath. She told Jane's uncle, John Eyre, that Jane was dead. She confesses this, though spitefully, to Jane before her death.
John Reed – Jane's cousin, who got away with abusing & bullying her, before she left to go to school. As an adult his bad habits ruin his health. He tries to get more and more money from his family. He dies when Jane is 18, and is reported to have killed himself.
Eliza Reed – Jane's cousin. Little is known about her except that, along with her family, she treats Jane coldly as a child. When Jane comes back to Gateshead because of her aunt's illness, we find out that she grew up into a very prim young woman whose life is governed by her daily schedule. She does not get along with her sister Georgiana. She becomes a nun.
Georgiana Reed – Jane's cousin. Grows up into a pretty but a bit silly and frivolous young woman. She takes a liking to Jane when they are at Gateshead together during Mrs. Reed's illness and death. She ends up marrying a rich man.
Mr. Eyre – Jane's father, who dies along with her mother when Jane is too young to remember. Married Miss Jane Reed.
John Eyre – Jane's uncle (Mr. Eyre's brother), who leaves her a fortune of 20,000 pounds, which she divides equally between herself and her cousins St. John, Diana, and Mary Rivers.
Mrs. Rivers – Jane's aunt; formerly Miss Eyre; sister of Jane's father and John Eyre. She dies before Jane ever comes to know that side of her family.
St. John, Diana, and Mary Rivers – Jane's cousins. She finds them quite accidentally. They take her in, sick and destitute, and she lives in their house for some time before any of them find out they are related. She teaches at a girl's school St. John (a clergyman) forms. St. John plans to become a missionary in India, and asks her to come as his wife. Though she was willing to help him, she was not willing to marry him. Diana and Mary become her very good friends.
Spouse: (future) Edward Rochester. Jane is governess to his ward, Adele Varens. He quickly earns her respect and fondness, and though he is unhandsome and almost twenty years older than Jane, she finds herself in love with him. He falls desperately in love with her as well, although pretends otherwise at first, making her believe he means to marry someone else. They come to an understanding though, and become engaged. But the dark secrets of his past ruin their happiness for a time, and almost for life.
Helen Burns – The first friend Jane ever knew. Helen helped her learn how to get on at Lowood school, but died not long after Jane came. She was about thirteen in age.
Miss Temple – The headmistress at Lowood. She is a compassionate teacher and Jane admires her as a child. When Jane becomes a teacher herself, they become good friends, and Jane feels rather dejected after Miss Temple marries and leaves.
Mrs. Alice Fairfax – The housekeeper at Thornfield Hall. She's never up to a deep conversation, but she is pleasant company. She is very distantly related to Mr. Rochester by marriage.
Adele Varens - Jane's student
St. John, Diana, and Mary Rivers – mentioned above under 'family'
Mrs. Reed – mentioned above under 'family'
John Reed – mentioned above under 'family'
Mr. Brocklehurst – The proprietor of Lowood. He is cold, cruel, and unfair.
Blanche Ingram – A snooty young woman to whom Mr. Rochester played the beau. She always treats Jane with disdain.
Bertha Mason – Mr. Rochester's insane wife who, because she was alive, at first prevents the union between Jane and Mr. Rochester. She is the brother of Richard Mason, who was something of a friend to Mr. Rochester before Mr. Mason helped in deceiving Rochester as to the sanity of his bride.
Portrayed By: Mia Wasikowska (2011), Ruth Wilson (2006), Samantha Morton (1997), Charlotte Gainsbourg (1996), Zelah Clarke (1983), Sorcha Cusack (1973), Susannah York (1970), Joan Fontaine (1943), Virginia Bruce (1934)
"I had not intended to love him; the reader knows I had wrought hard to extirpate from my soul the germs of love there detected; and now, at the first renewed view of him, they spontaneously arrived, green and strong! He made me love him without looking at me." (Chapter 17)
"I have known you, Mr Rochester, and it strikes me with terror and anguish to feel I absolutely must be torn from you for ever. I see the necessity of departure, and it is like looking on the necessity of death." (Chapter 23)

"Do you think, because I am poor, obscure, plain, and little, I am soulless and heartless?" (Chapter 23)
"I am no bird; and no net ensnares me; I am a free human being with an independent will." (Chapter 23)
"I will hold to the principles received by me when I was sane, and not mad--as I am now. Laws and principles are not for the times when there is no temptation: they are for such moments as this, when body and soul rise in mutiny against their rigour; stringent are they; inviolate they shall be. If at my individual convenience I might break them, what would be their worth? They have a worth--so I have always believed; and if I cannot believe it now, it is because I am insane--quite insane: with my veins running fire, and my heart beating faster than I can count its throbs. Preconceived opinions, foregone determinations, are all I have at this hour to stand by: there I plant my foot." (Chapter 27)
"I know what it is to live entirely for and with what I love best on earth. I hold myself supremely blest – blest beyond what language can express; because I am my husband's life as fully as he is mine."(Chapter 38)
As a girl of ten, Jane Eyre is sent to school by her uncle's widow Mrs. Reed. Mrs. Reed and her children always treated Jane hatefully despite her attempts to please them.
Lowood school is a cold, hard place where the living conditions are unhealthy and discipline is harsh. The headmistress Miss Temple is sympathetic though, and Jane's friend Helen Burns helps her to settle in. Jane works as hard as she can and does very well in school. At age sixteen she becomes a teacher, and stays at Lowood for another two years.
When Miss Temple marries and leaves, Jane suddenly finds herself discontented with her monotonous life and desires a change. She seeks a new position as a governess, and she finds one.
Thornfield Hall is Jane's new home, where she is welcomed by the kindly housekeeper Mrs. Fairfax and meets her new pupil Adèle, a little French girl around eight. Adèle is the ward of Mr Rochester, the owner of Thornfield, who is reported to be rarely at home.
She continues quietly as a governess for a few months. While she is happy in the position, she begins to feel a bit restless.
Then Mr. Rochester comes home unexpectedly. He is a moody man with a dark past, but he treats Jane well and for the first time in her life she can enjoy conversing openly with someone who is her equal in intellect. Though he is rather difficult to understand sometimes and has many faults, she anticipates their interesting conversations, and finds her respect for him growing into fondness.
There is a mystery at Thornfield that Jane can't solve. Every so often she hears a strange, mirthless laugh. Mrs. Fairfax says it is the servant Grace Poole, who stays all day long in the upper rooms and Jane sees very rarely. She suspects there is more to the story than anyone will tell her.
One night Jane is awakened by a noise outside of her door; that unnatural laugh—a moan—footsteps retreating. Disturbed, she dresses in preparation to seek Mrs. Fairfax. When she opens her door, she is bewildered to see a lit candle on the floor, and then she smells a fire and sees smoke coming from Mr. Rochester's room. She rushes in and tries to wake him up, but when he doesn't, she proceeds to put the fire out by herself.
"I knew you would do me good in some way, at some time." Mr. Rochester tells her while expressing his gratitude to her for saving his life. "I saw it in your eyes when I first beheld you: their expression and smile did not strike delight to my very inmost heart so for nothing."
Jane is perplexed the next day to discover that Mr. Rochester has left to visit some of his wealthy acquaintance. He stays away for a couple of weeks, and then comes back with a houseful guests, one of which is the beautiful Blanche Ingram, who Mr. Rochester pays a great deal of attention to.
Jane is furious for ever allowing herself to cherish tender feelings for her employer. She tries to reason herself out of it, determined to stifle her increasing love for him.
Little does she know that, through the disguise of his supposed potential bride Miss Ingram, Mr. Rochester is really desperately in love with Jane and hopes to marry her. But there's also something else she doesn't know…and that something has the means of ruining their happiness and bringing desperation into their lives.
The reader, however, may look forward to a happy ending.
1934 Movie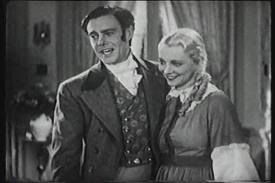 1944 Movie
1970 Movie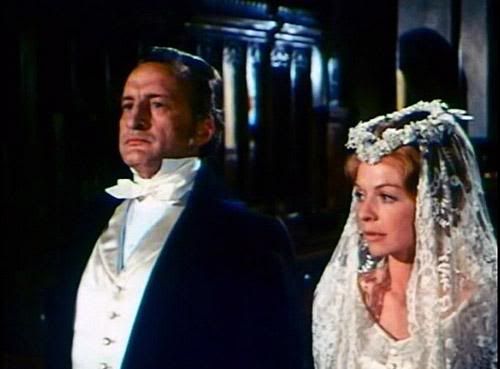 1973 Movie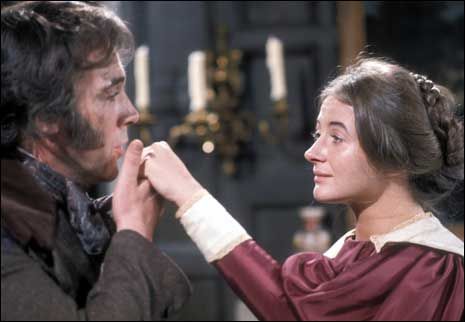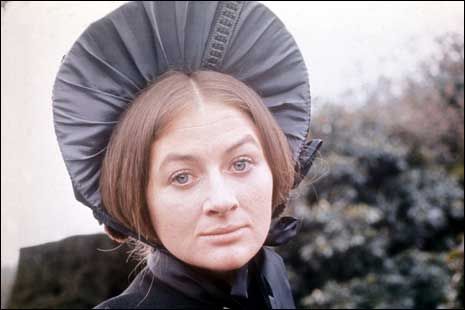 1983 Movie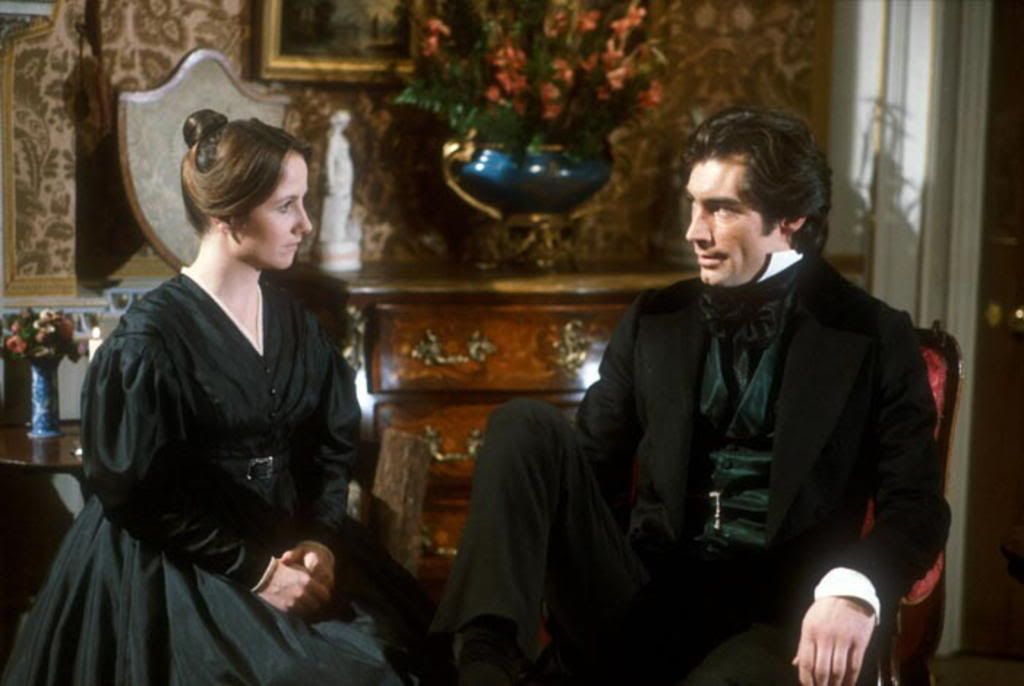 1996 Movie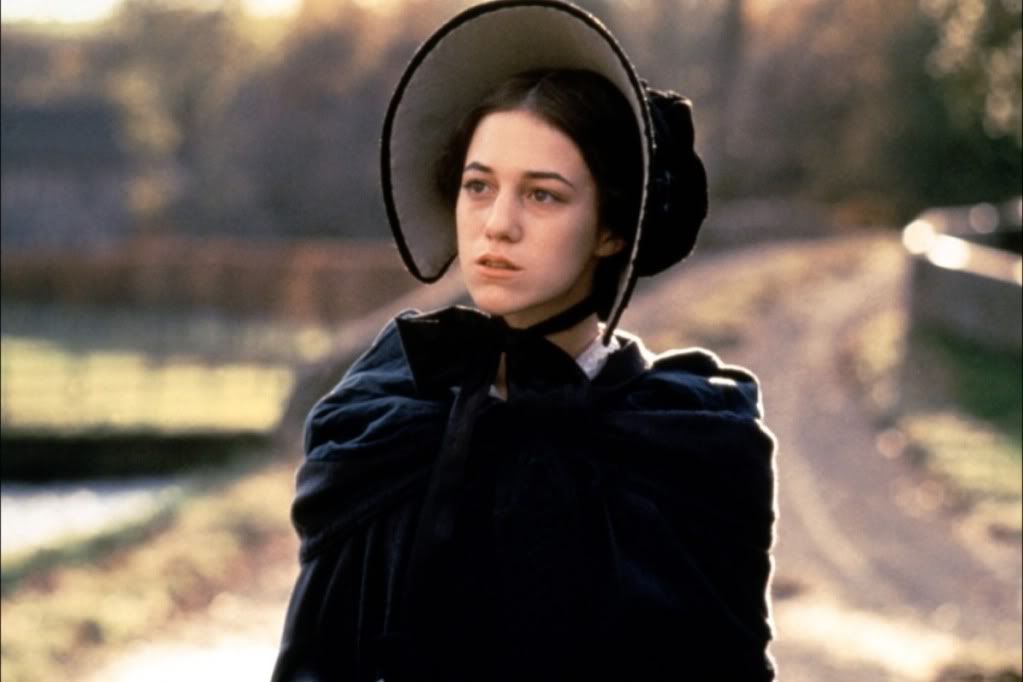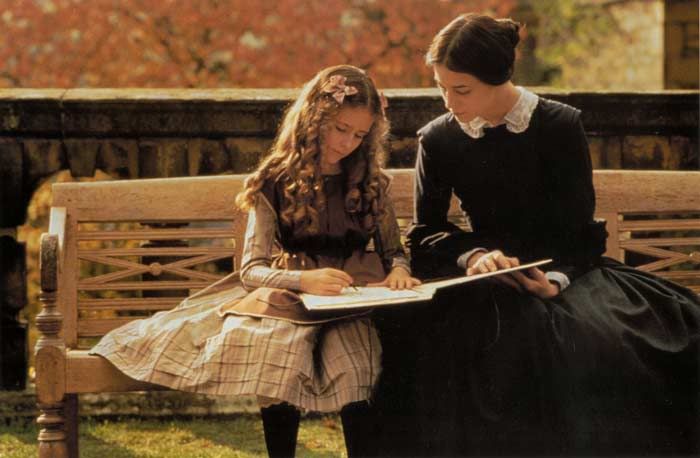 1997 Movie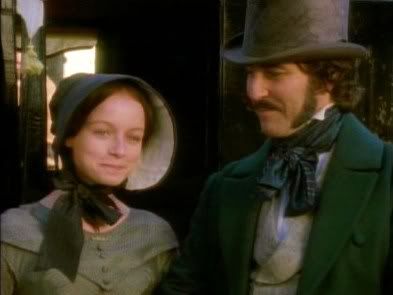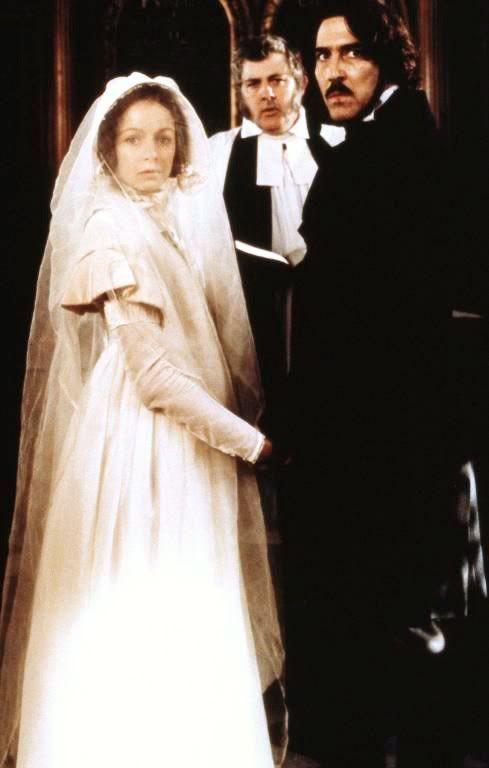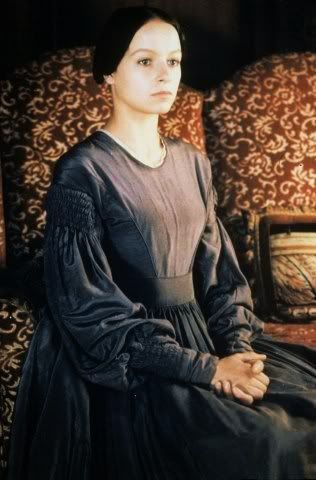 2006 Movie
2011 Movie