Name:
Anne Elliot
Nicknames/Aliases:
Anne, Miss Anne, Miss Anne Elliot, Miss Elliot
Novel:
Persuasion
by Jane Austen
Role:
Heroine
Age:
27
Occupation:
Baronet's daughter
Talents / Hobbies:
Reading romantic prose and poetry, playing piano (especially dances), going to the opera, playing with her nephews, spending time with family and friends.
Place of Residence:
Kellynch Hall, Somerset, England
Virtues:
Gentleness, modesty, taste, feeling,
strong mind, sensible, sweet nature, constant heart.
Vices:
Sometimes too easily persuaded and gives way too easily.
Family:
Sir Walter Elliot
- Father of Elizabeth, Anne, a stillborn son and Mary who married Charles son and heir of Charles Musgrove Esq. of Uppercross. Wife, Lady Elizabeth Elliot, deceased. Grandfather of Little Charles and Little Walter Musgrove. Baronet of Kellynch Hall in Somerset, heir presumptive his nephew Mr. William Walter Elliot.
Lady Elizabeth Elliot
(deceased) - Daughter of James Stevenson Esq. of South Park in Gloucester. Mother of Elizabeth, Anne, a stillborn son, and Mary who married Charles on and heir of Charles Musgrove Esq. of Uppercross. Died 1800 when Anne was fourteen years old.
Elizabeth Elliot
- Anne's sister, age 29. She is unmarried, prettier than her sisters, their father's favorite and mistress of Kellynch Hall since her mother's death.
Mary Musgrove
- Born Mary Elliot she is the youngest daughter or Sir Walter Elliot, age 23, and has a great deal of the Elliot pride. Mary married Charles Musgrove the younger in 1810 and they have two sons: Little Charles Musgrove and Little Walter Musgrove.
Spouse:
Captain Frederick Wentworth
(future) - Anne first met Captain Wentworth when he was a young navy Lieutenant visiting his brother who was rector of Monkford near the Elliot family home. The two fell quickly in love and Captain Wentworth asked Anne to marry him before he went back to sea. Anne initially agreed but after facing disapproval from her father, sister and mother figure Lady Russell, and her own conviction that she wasn't good enough for him, nineteen-year-old Anne was persuaded to refuse him. Anne followed Captain Wentworth's successful career as naval Captain, admiring his bravery. Eight years later when her father rents his house to Captain Wentworth's sister and brother-in-law, the Crofts, Anne goes to stay nearby with the Musgroves. Anne and Captain Wentworth are thrown together again when he visits his sister and many awkward moments are shared between them, especially when their friends believe that he is showing attraction to young Louisa Musgrove. Later in Bath Anne meets up with Captain Wentworth and he proposes to her again. With this second chance at true love Anne simply can't refuse!
Friends:
Lady Russell
- A longtime friend of Anne's mother and her godmother. Lady Russell was the wife of Sir Henry Russell, "only a knight" and lives at Kellynch Lodge on Sir Walter Elliot's estate. She acts as a mother figure and advises Anne not to marry Frederick Wentworth at age nineteen, a decision Anne later regrets. She shares Anne's interest in prose and poetry and in one of the few who truly appreciate Anne's worth and sees her likeness to her deceased mother.
Mrs. Smith
- Formerly Miss Hamilton, she is a few years older than Anne and was at school with Anne in Bath. They were great friends up until the time of her marriage to Mr. Charles Smith
Charles Musgrove
- Married to Anne's sister Mary, Charles is son and heir of Charles Musgrove (the elder) of Uppercross. He admires Anne and even asked her to marry him a few years before marrying Mary. Anne refused his proposal because she did not love him but they remain good friends. Like the rest of the Musgroves, he values Anne's good sense and down-to-earth nature.
Henrietta & Louisa Musgrove
- Both of Charles Musgrove's sisters are lively good-natured young ladies who like Anne a great deal more than their sister-in-law Mary. Anne is a good friend and adviser to them, especially to Henrietta who she becomes closer to during their visit to Lyme.
Enemies:
William Walter Elliot
- Anne's cousin and her father's heir presumptive, she first meets him while visiting Lyme with friends. When Anne meets him again in Bath he pays her considerable attentions leading to rumors, that reach the hero, that she will marry him. Although Mr. Elliot does respect Anne his chief desire in marrying her is to secure an heir to the Elliot title and keep pretty widow Mrs. Clay from marrying Sir Walter Elliot.
Penelope Clay
- A friend of her sister Elizabeth, Mrs. Clay is a young and pretty widow who knows how to please. She goes to stay with Elizabeth and Sir Walter Elliot in Bath, occupying the place Anne should have, and tries to capture Sir Walter and Mr. Elliot with her charms.
Elizabeth Elliot
- Anne's sister. See description under "Family".
Portrayed By:
Ann Firbank (1971), Amanda Root (1995) and Sally Hawkins (2007).
Quotes:
"Oh, Frederick, Frederick, Frederick!"
- Persuasion (1971)
"While my mother was alive there was moderation and economy in our home, and no need of moving out."
- Persuasion (1995)
"We are living through a great age for poetry, I think."
- Persuasion (1995)
"...You ought perhaps to include a larger allowance of prose in your daily study. Too much poetry may be...unsafe."
- Persuasion (1995)
"My instinct tells me, he is charming and clever but I have seen no burst of feeling, warmth of fury or delight."
- Persuasion (1995)
"Oh, why is the whole town suffering from this dreadful misapprehension that I shall marry him!"
- Persuasion (1995)
"We do not forget you, so soon as you forget us. We live at home, quite, confined, and our feeling prey upon us. You always have business of some sort or other, to take you back into the world."
- Persuasion (1995)
"I believe you capable of everything great and good, so long as - if I may - so long as the woman you love lives, and lives for you. All the privilege I claim for my own sex - and it is not a very enviable one, you need not covet it - is that of loving longest, when all hope is gone."
- Persuasion (1995)
"The worst is over. I have seen him. We have been once more in the same room. A bow, a curtsey, I heard his voice...and then he was gone. He has not forgive me. I have used him ill, deserted and disappointed him. And worse, shown a feebleness of character in doing so which his own decided, confident temper could not endure. Once there were no two hearts so open, no feelings so in harmony. But now we are strangers - worse than strangers, for we may never become acquainted. It is a perpetual estrangement. And tonight I am to be tested once more."
- Persuasion (2007), Anne writes in her journal
"Captain. Captain. I am...I am in receipt of your proposal and am minded to accept it. Thank you!
(Captain Wentworth asks if she's quite certain.)
I am. I am determined I will. And nothing, you may be sure, can ever persuade me otherwise."
- Persuasion (2007)
"And yet," said Anne to herself, as they now moved forward to meet the party, "he has not, perhaps, a more sorrowing heart than I have. I cannot believe his prospects so blighted for ever. He is younger than I am; younger in feeling, if not in fact; younger as a man. He will rally again, and be happy with another."
- (about Captain Benwick, novel)
"My idea of good company, Mr. Elliot, is the company of clever, well-informed people, who have a great deal of conversation, and a liberality of ideas; that is what I call good company."
- (novel)
"One does not love a place the less for having suffered in it, unless it has been all suffering, nothing but suffering."
– (novel)
"What wild imaginations one forms, where dear self is concerned! How sure to be mistaken!"
– (novel)
"Men have had every advantage of us in telling their own story. Education has been theirs in so much higher a degree; the pen has been in their hands. I will not allow books to prove anything."
– (novel)
"Oh!" cried Anne eagerly, "I hope I do justice to all that is felt by you, and by those who resemble you. God forbid that I should undervalue the warm and faithful feelings of any of my fellow-creatures! I should deserve utter contempt if I dared to suppose that true attachment and constancy were known only by woman. No, I believe you capable of everything great and good in your married lives. I believe you equal to every important exertion, and to every domestic forbearance, so long as -- if I may be allowed the expression, so long as you have an object. I mean while the woman you love lives, and lives for you. All the privilege I claim for my own sex (it is not a very enviable one: you need not covet it), is that of loving longest, when existence or when hope is gone!"
- (novel)
"If I was wrong in yielding to persuasion once, remember that it was to persuasion exerted on the side of safety, not of risk."
- (novel)
Biography:
Born August 9, 1787, Anne is the second oldest of three daughters born to Baronet Sir Walter Elliot and his wife Lady Elizabeth Elliot. Her mother died when Anne was fourteen leaving the her and her two sisters to be raised by their prideful father and mother's sensible friend Lady Russell.
While attending school in Bath Anne became close to an older student, Miss Hamilton (later Mrs. Smith), who helped Anne through her grief over her mother's death.
When Anne came home to Kellynch in1806 she met handsome young Frederick Wentworth (then a navy Lieutenant) who was visiting his brother Edward the curate at Monkford. They fell deeply in love and when Wentworth asked her to marry him she happily said yes. Upon meeting with disapproval from her father (who thought it a degrading alliance) and Lady Russell (who thought it a most unsuitable match), Anne doubted that she would make a suitable wife for Wentworth and is persuaded to refuse him. Suffering greatly from this disappointment and regret Anne prematurely looses her bloom, spirits and enjoyments of youth.
About three years later Anne recieved a proposal of marriage from Charles Musgrove (the younger) son and heir of Charles Musgrove Esq. of neighboring Uppercross. Although his sisters think Lady Russell persuaded her to refuse him, Anne refuses him because he's just a good friend and she's still in love with Wentworth. Charles doesn't suffer and he marries her sister Mary the next year and they have two sons.
When her mother was alive there was sense and economy in their family home of Kellynch Hall, but after her loss Anne's elder sister Elizabeth became acting mistress of the house and Sir Walter continually spend above his income and becomes heavily in debt. The novel begins in the year 1812 when Sir Walter's money troubles come to a crisis forcing changes. Anne urges retrenching but her father and sister's pride could not allow such severe economizing. Lady Russell and Mr. Shepherd (Sir Walter's lawyer) finally persuade Sir Walter to move to a smaller residence in Bath and rent Kellynch Hall to Admiral Croft, a navy man.
When Sir Walter, Elizabeth and Elizabeth's widowed friend Mrs. Clay go to Bath, Anne goes to stay with her sister Mary and brother-in-law Charles at Uppercross Cottage. Anne is welcomed and appreciated by Charles' parents Mr. & Mrs. Musgrove and sisters Henrietta & Louisa who all confide in her about their family disagreements. When they take up residence at Kellynch Hall Admiral and Mrs. Croft form a friendship with the Musgroves. Mrs. Croft's brother is Captain Frederick Wentworth, who having great success in the navy, is now home in England and visiting his sister. Anne is quite unsettled at their first meeting but as Captain Wentworth becomes quite a favorite with the family at Uppercross she becomes more comfortable. She is pained however when Captain Wentworth seems to be paying attentions to Henrietta and especially to Louisa Musgrove.
When Captain Wentworth shares his intentions of visiting a few of his brother officers at the seashore in Lyme Charles and Mary decide to make up a party and invite Henrietta, Louisa and Anne to join them. Anne enjoys meeting Captain and Mrs. Harville and forms a friendship with Captain Benwick, a young man disappointed in love, who she discusses poetry with. One day while walking on the Cobb in Lyme Anne is admired by a gentleman who Mary later discovers is their father's estranged heir Mr. William Elliot. Later that day Louisa, showing off to Captain Wentworth, foolishly jumps off high steps and severely injures her head. Captain Wentworth advises that Anne should stay in Lyme to nurse Louisa, but when Mary Musgrove complains he takes Anne and Henrietta back to Uppercross where the Musgroves must be told of Louisa's accident.
Anne spends Christmas with Lady Russell, then the two of them travel to Bath where Anne is received rather coolly by her father and sister. In Bath she officially meets Mr. William Elliot who is now on good terms with her father and making himself agreeable to Elizabeth and Mrs. Clay. Anne finds Mr. Elliot sensible and is almost caught up in Lady Russell's dream of the pair marrying so Anne could have her deceased mother's role as Lady of Kellynch.
Anne becomes reacquainted with her old school friend Mrs. Smith who is now a poor widow. Her visits to Mrs. Smith displease her father and Elizabeth but Anne's kind visits are a great encouragement to her invalid friend.
Anne recieves a letter from her sister Mary telling about the surprising engagement of Louisa Musgrove to Captain Benwick. Admiral and Mrs. Croft come to Bath and Anne is glad to hear from them that Captain Wentworth was never attached to Louisa and is now coming to Bath as well. Anne meets Captain Wentwoth in a tea shop on a rainy afternoon but their conversation is interrupted by Mr. Elliot coming to take Anne home. The next evening Anne attends a concert with her family where she talks at length with Captain Wentworth about their experiences in Lyme. Captain Wentworth leaves the concert early when he hears rumors that Anne is to marry Mr. Elliot.
The next day Mrs. Smith proves invaluable when she is able to tell Anne about Mr. Elliot's true nature. Later that day Anne visits Mrs. Musgrove who has come to Bath with Charles, Mary, Henrietta and Captain Harville to buy wedding clothes for Louisa and Henrietta who are soon to be married. Anne has a conversation with Captain Harville about whether men or women are more constant in love. Captain Wentworth, overhears their conversation, writes the most romantic letter of proposal to Anne that he leaves for her. Anne is much effected by finding out that Captain Wentworth's love is as unchanged as her own. She meets Captain Wentworth in the street soon after; they walk, talking over their feelings and futures.
Other Pictures (Click thumbnails for bigger picture. Click the headings for more pictures.)
BBC Persuasion (1971)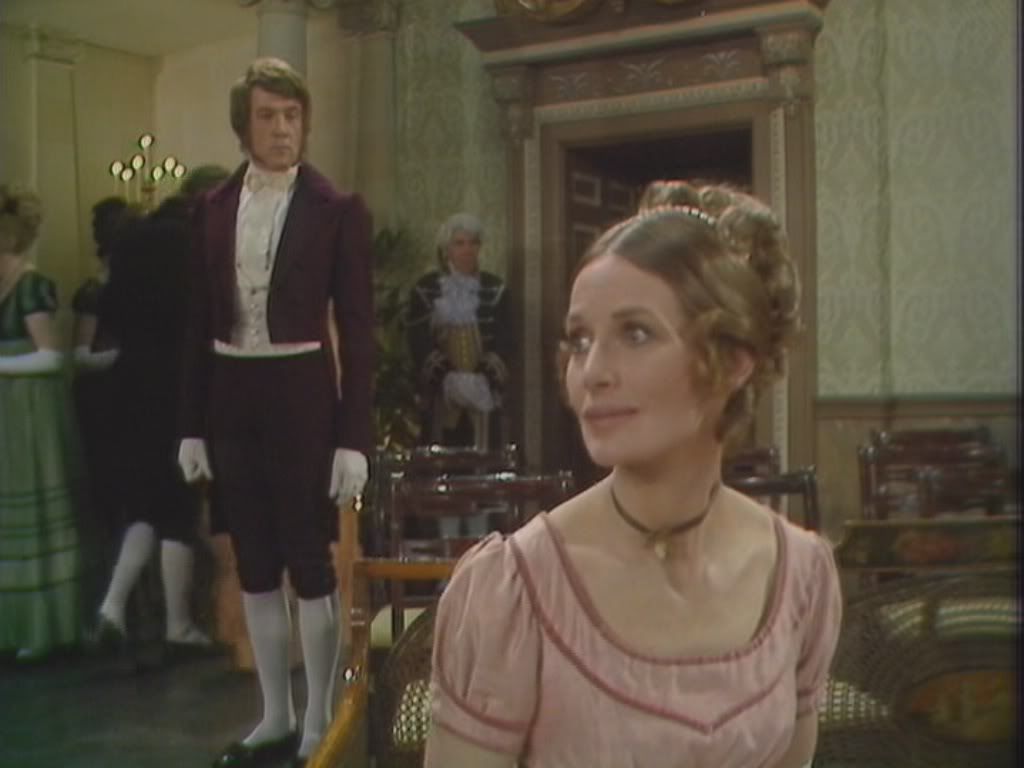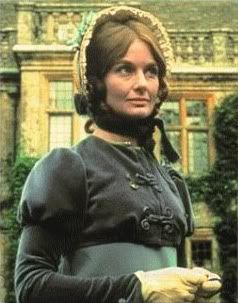 Persuasion (1995)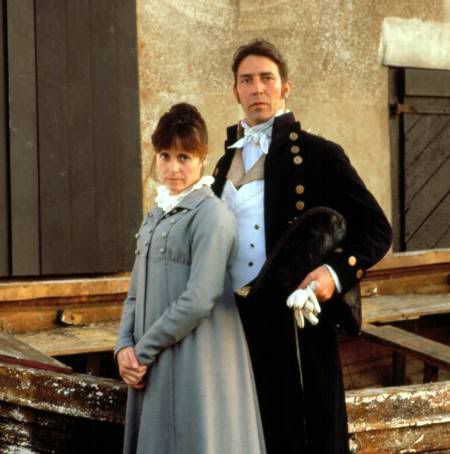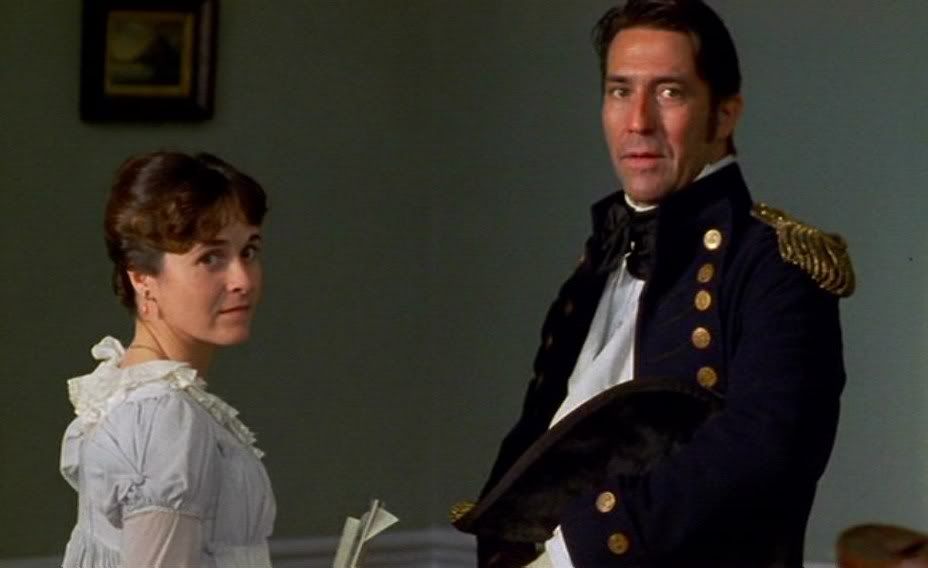 Persuasion (2007)